Our Digital Services Gateway – simplifying complexity
Inspired by possibility, we orchestrate innovative ICT solutions centred around a constantly evolving Digital Services Gateway.
We take the best of the endless technology options available, and innovatively transform highly complex products and services into uniquely simple and integrated client solutions.
Our consultancy led engagements drill down to the essence of our clients' desired business outcomes so that we design and deliver solutions that are beyond technical limits, beyond communication barriers, beyond geographic boundaries.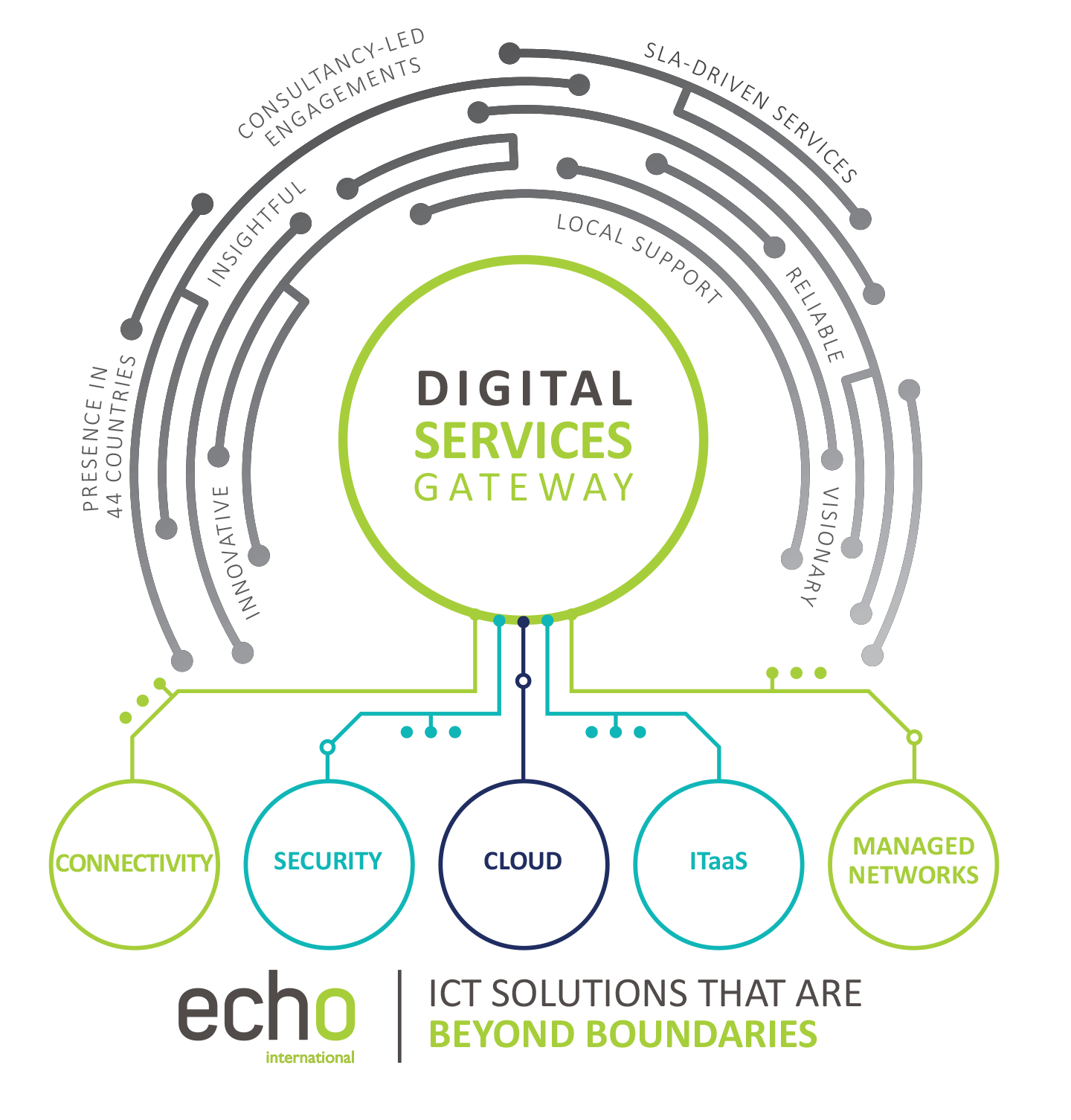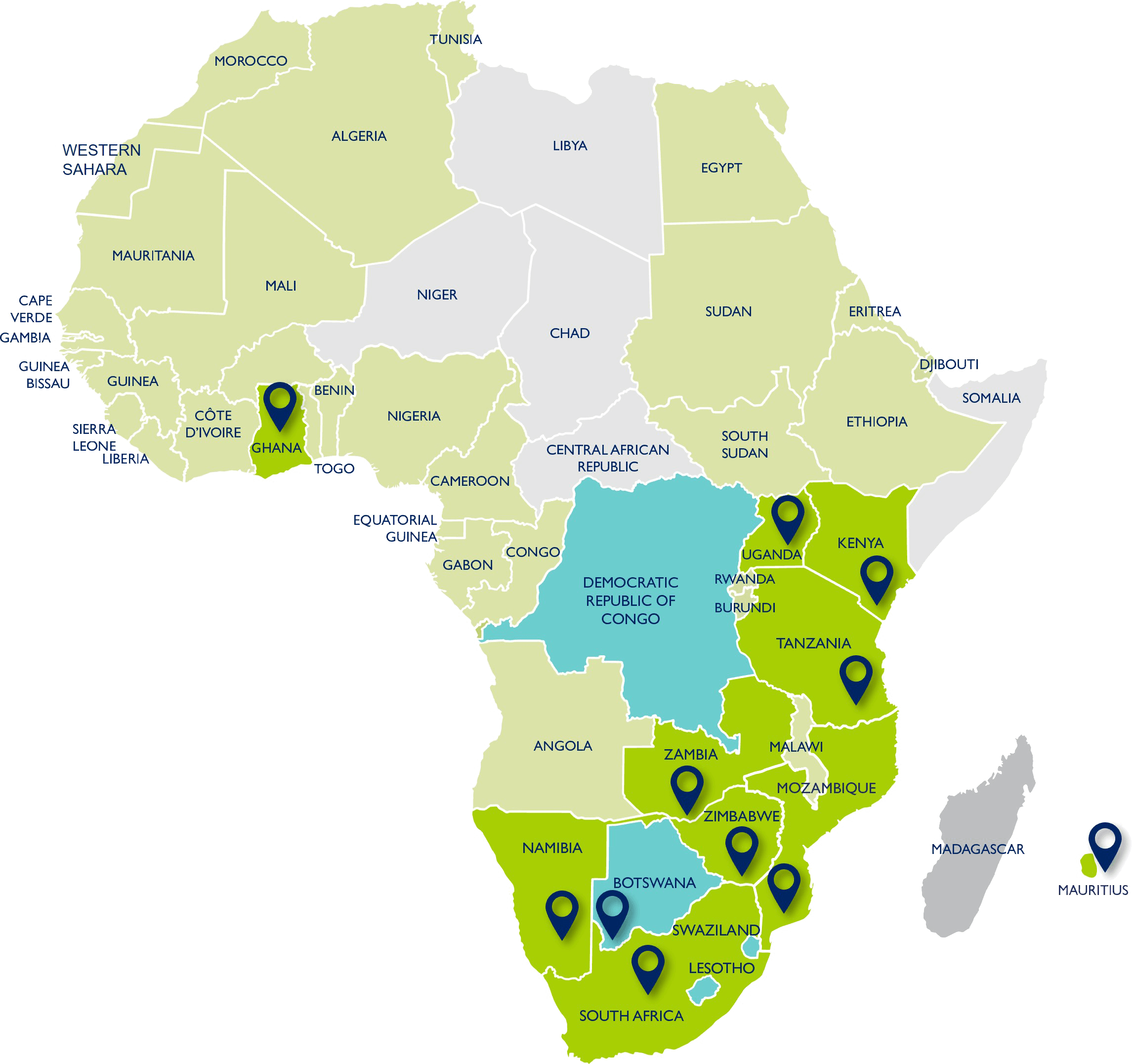 | | |
| --- | --- |
| | Echo local operation and on-net presence |
| | Planned PoP expansion |
| | Off-net presence via strategic partners |
| | Data centre collocation and virtualisation facilities |
With a local presence in 8 countries and strategic partners across 44 countries, we provide the widest range of carrier connectivity coverage across Africa, with capacity on all major West and East coast cable systems around Africa (SAT3, MAIN ONE, WACS, ACE, SEACOM, EASSY, TEAMS and SAFE) to ensure redundancy.
Plugging into our flexible Digital Services Gateway allows clients to use their existing connections or choose from our extensive range to create redundant, converged multi-carrier networks. Our hybrid software-defined networks incorporate managed security, as well as a range of cloud and hosting services at data centre locations across the continent as well as the UK. Bolstered by a range of ITaaS offerings, we are the definitive ICT partner for end-to-end, SLA-driven solution orchestration.
Data Centre
Co-location space for hardware hosting, virtual hosting services and a range of other standard hosting offerings. These can be augmented with elements of a complementary managed services portfolio.
Critical issues such as power availability and network availability are taken care of, with around the clock support services.
Cloud
A range of scalable, dedicated and shared cloud hosting services all with 24/7 support and SLA agreements, including Infrastructure as a Service (IaaS), Platform as a Service (PaaS), and Software as a Service (SaaS).
Fibre
One of Africa's largest fibre networks, provisioned via on-net points of presence as well as extensive reseller agreements and partnerships on the ground.
Wireless
Wireless services in both licensed and unlicensed spectrum across markets.
Satellite
A full range of VSAT solutions including Ka, Ku & C-Band services across Africa providing high network availability and reliability.
ITaas
Provision of exactly the amount of hardware, software, and support required, governed by a robust service level agreement.
Infrastructure Management, IT Service Management, IT Procurement & Subscription, and SaaS.
Software-defined Networks
Software-defined, managed network services designed to deliver autonomy, flexibility, agility and centralised control.
SECURITY AS A SERVICE
(SECaaS)
A holistic range of data security services to meet the evolving requirements of every enterprise in today's digital operating environment.